First off let me just say I wish I didn't love plaid so much.

When it's done well, plaid looks awesome.

But when it's not, few things can look worse.

It's right up there with truly unfortunate print placement.

This is when sewing OCD can be really good or really bad and you usually don't know until after you've finished.

Of course checking out plaid RTW will usually make you feel better.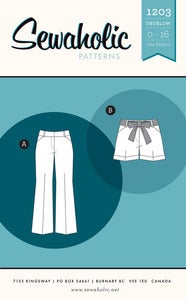 That said I really wanted a pair of plaid shorts!

So I went out and found some plaid seersucker that I thought would be super cute.

To up the ante I dug my Sewaholic Thurlow pattern out and decided it was time to try it out.

If I wanted to be easy on myself, I would've picked a solid fabric for my first try.

So much for that.
When dealing with plaid the cutting stage takes forever but it pays off.

While making these shorts I cut every piece in a single layer and kept the leg hems on the same stripe within the pattern.

I figured as long as the horizontal lines matched up I'd be better off since the vertical lines are broken up by the pockets.

In addition the fabric was a bit thin so I underlined everything as well.

I cut the welts and waistband on the bias to keep things interesting and to avoid having to match even more.

As a bonus the on grain underlining for these pieces will keep them from stretching out.

When you attach the pockets to the front legs they don't lie completely flat to help you get your hands in them. I could drive myself insane trying to get them to match up but they never will.

So I just accepted close enough.

I'm pretty happy with my first attempt at welt pockets.

I basically went step by step, taking my time and when in doubt pressing everything with my iron.

Lladybird has a great post on how to do this as part of her Thurlow sewalong last year.
I really wanted to wear these on Sunday since it was the first true shorts weather of the season so I quickly finished the waistband and wore them all day without a button or pants hook and eye.

They stayed up just fine and were so comfortable!

Later I did finish them properly by ripping out waistband and switching out my bobbin thread to match the lining.

I ended up attaching and ripping out my beltloops multiple times.

The first time they were a bit crooked and the second I realized I forgot to switch out my bobbin thread again.

I thought about just leaving them but knew I'd keep thinking about them. The perfectionist in me says I should've done the same with my serger thread but oh well, I was feeling too lazy to do that much.

I wanted to make these a bit more casual so went with a visible jeans button instead.

Plus it meant I got to use a hammer which is always fun! When turning up the cuffs and tacking them down I did make sure to align the plaid.

I see myself wearing these shorts a lot this summer – I've already gone through my closet to see how many shirts I have that go with them.

I see more pairs of Thurlows in my future!