This is the Sewaholic Crescent in Blue seersucker. I'll admit at first I wasn't super taken with this pattern and was unsure if it was "me."

Fast forward to last winter when I was skimming through the Minoru sewalong posts while making my jacket.

In the final couple posts Tasia was wearing a gathered seersucker skirt.

You can't see much of it but I was guessing it must be a Crescent and that I needed to have one of my own.

Of course winter isn't really seersucker skirt weather.
But woo-hoo - it is now!

In fact I was so excited I decided to make two versions one in blue and one in white.

Making them at the same time was quicker since I never needed to change thread color.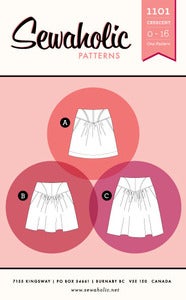 I made version B which has a highly gathered skirt in a shorter length.

The only alteration I made was to take in the side seams on the yoke by half an inch each.

I didn't do this on my corduroy trial version and it was a bit loose.

I didn't alter my pattern piece because this is an easy change to make while sewing.

Plus I won't have to resort to having to try and cut out four extra side yoke pieces with my scraps in case there's a change in me or fabric and it's too small.

This is especially important if you're like me and try to squeeze my cutting out of the smallest piece of fabric possible.
I decided to add a lining just in case and simply used the version A less gathered skirt pieces – minus the pockets and took some length off.
The pockets are both under and topstitched.

I chose not to topstitch the yoke pieces because I figured with the stripe they wouldn't really show up.

That said I really didn't try and match them up at all.
After hemming both skirt and lining, the lining was sticking out a bit.

So after a major seam-ripping session I cut off more length and hemmed it again.

This time the lining behaved and didn't try and make an appearance.
Now I hope the warm weather sticks around so I can wear them!